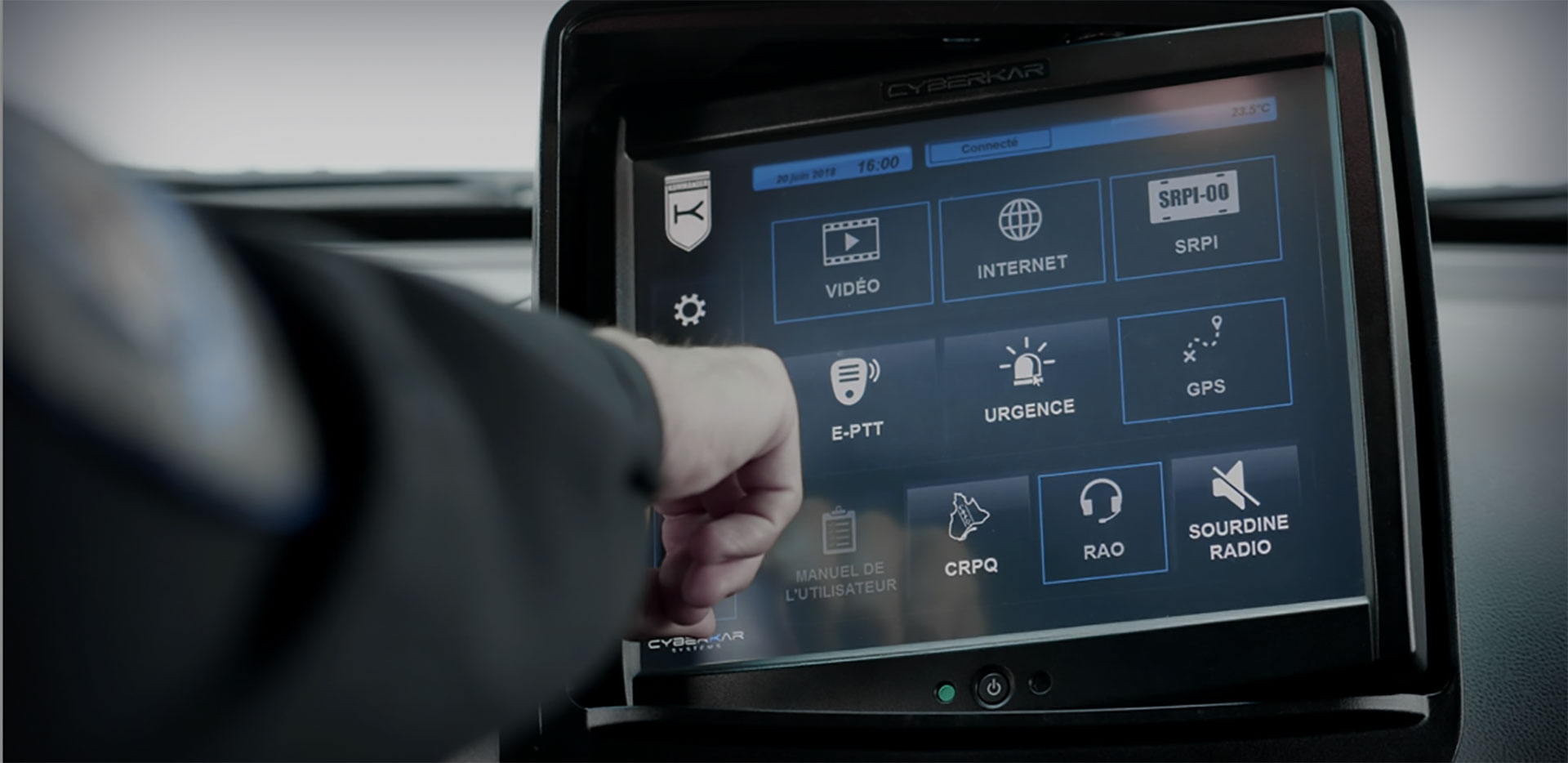 Optimized for police officers
Based on ergonomist studies - approved by police officers
Police officers' safety
Air bags
Kommander® provides patroller safety by offering a solution that does not interfere with front-end deployment, but most importantly the lateral airbag deployment. It is one of the few solutions that meets the automotive manufacturers' safety standards (Ford, Dodge, GM), specifying that nothing shall be installed more than 1.5 inches from the vehicle dashboard.
Space & layout
Vehicles are getting smaller than ever and have become overcrowded
by the wide array of components made available to police officers.
Kommander™ addresses this issue by freeing significant space in the vehicle.
Ease of use
Accessibility of tools and applications
Kommander™ is designed so that the most commonly used tools and functions by patrolmen are placed on the steering wheel. Tools positioning is 100% configurable according to your needs. The most essential tools are therefore accessible at any time. Moreover, the large screen (12 inch) rotates for perfect user positioning.
Twisting + distraction
Kommander™ is designed to optimize vehicle cabin layout, thus minimizing the twisting of the back and neck of the user.
Task automation allows police officers to stay focused on the road ahead.
Ergonomic cabin
Keeping eyes on the road
Equipment layout is optimized to meet ergonomics standards, such as Fitts or Hick's law which are predictive model of human movement. Unlike competitors, Kommander™ is equipped with buttons on the steering that control all the vehicle's devices and applications, thus allowing officers to keep both hands on the steering wheel and eyes on the road. The most essential tools are therefore accessible at any time. This is key to police officers work smooth operation. That's why tools placement is hierarchized according to their frequency of use.
Clients and partners
Testimonials
City of Blainville Police Department
« Kommander™ is much appreciated by our patrolmen, in terms of ergonomics, ease of use and operating system's rapidity. It's powerful and allows our policemen to get all the information needed without delays. »
Richard Tremblay
Detective – Investigations Division
City of Blainville Police Department
Intermunicipal Police Board of Roussillon
« The main advantage: we gain space in the vehicle. All the services can be accessed through the screen, which improves ergonomics especially when two patrolmen work together in the car. »
Janik de Bray
Section Leader – Material Resources
Intermunicipal Police Board of Roussillon
City of Mercier Police Department
« With your skills, knowledge, professionalism and thoroughness, you've been the cornerstone of our new police department implementation project, with all the pressure and constraints that this involves! Thank you. »
Josée-Anne Mallette
Secretary
City of Mercier Police Department
Mirabel City Police Department
« Kommander™ allowed us to make a true technological turnaround. It's obviously a solution for the future of police departments wanting the best equipment for their patrolmen. »
Nicolas Arbour
Interim Director
Mirabel City Police Department
Cyberkar® systems
Contact us
3026 rue Anderson, suite 202,
Terrebonne, Québec, Canada J6Y 1W1
T. 450 951 3080 F. 450 823 0192
Cyberkar® systems